1965 - 2005

40th ANNIVERSARY OF VATICAN RADIO INDIAN LANGUAGE PROGRAMMES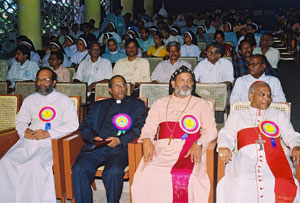 The 40th anniversary Celebration at Kochi (Kerala) is planned within a Congress to be held at Kochi from: Saturday 3rd December till Monday 5th december and inaugurated by Cardinal Varkey Vithayathil with the participation of the catholic Bishops' Conference and Kerala Catholic Major Superiors ,catholic Ministers of kerala, City Mayor and other dignitaries.
The 40th anniversary will be celebrated too at Ranchi (Jharkhand) for Vatican Radio Regional Office, Hindi Section on December,11th and inaugurated by Cardinal Telesphore P.Toppo. In both the events Vatican Radio will be represented by Father Alfie Ben, S.J.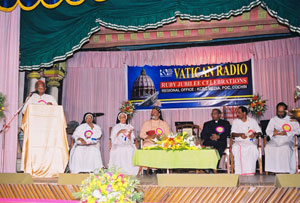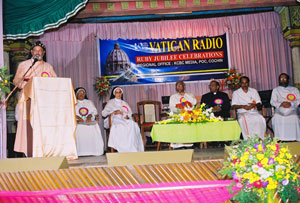 HISTORY OF VATICAN RADIO INDIAN LANGUAGE PROGRAMMES
The Indian Section, a.k.a. the Indian Language Programmes or South Asia Desk, which today broadcasts in Hindi, Tamil, Malayalam, English and Urdu, completed 40 year in 2005. These 40 years are part of an even more impressive history of the Pope's Radio which in 2006 marks its 75th anniversary.
The history of Vatican Radio's broadcast to the Indian subcontinent and south Asia goes back much earlier than 1965, the year when the Indian languages began broadcasting. Earlier, the only English programme of VaticanRadio, was repeated a number of times in different directions, including in Africa and South Asia. The need for special programmes adapted to the distinctive cultural needs and tastes of Africa and South Asia gave way to independent programmes for these two regions. For South Asia this became a realityin May 1965.
TIME LINE OF THE INDIAN LANGUAGE PROGRAMMES
May
1965

The Indian Section came into being with a 10-minute evening broadcast in Hindi, Tamil, Malayalam and English languages. Hindi went on air on Mondays and Thursdays; Tamil, on Tuesdays and Fridays. They were feature programmes.



1982

All the 4 languages began re-broadcasting the evening programmes the following morning, excepting Sundays.

May 12, 1985

Malayalam programme began broadcasting for 15 minutes in the morning. The rest continued with 10 minutes.

Jan. 7,
1986

In view of Pope John Paul II's visit to India (Jan. 31-Feb. 11, 1986), extra time was allotted to Hindi, Tamil, Malayalam and English. Each of them began broadcasting a feature programme for 15 minutes daily in the morning. The evening transmission was a 6-minute news only.

1986
end

The 6-minute evening news increased to 10 minutes and was repeated the following morning.

Mar. 25, 1990

The 4 languages began 15-minute broadcasts each in the evening, repeating them the following morning.

Sept. 23, 1993

Since this date Hindi, Tamil, Malayalam and English have each been broadcasting a feature and news for 20 minutes in the evening. This is repeated the following morning.

Oct. 24, 1993

A short 7-minute programme in Urdu titled, "Darwaza Khula Hai" (The Door is Open), begins to be aired on Sundays with time taken from Hindi. Urdu which is largely spoken in Pakistan, is also followed in India

Mar., 30, 2003

Urdu becomes an independent programme with extra time, going on air twice a week. A 15-minute programme is broadcast in the evening on Sundays and Wednesdays, which are repeated the following mornings

Oct. 24, 2003

Urdu completes 10 years of broadcasting

May,
2005

Indian Section, comprising Hindi, Tamil, Malayalam and English complete 40 years of broadcasting.

Oct. 24, 2005

Urdu completes 12 years

Through the past forty years, as time and frequency began to increase, the Indian language programmes began establishing a few centres in the Indian-subcontinent to facilitate greater contact with listeners who found and still find it quite expensive corresponding with Vatican Radio in Rome. These centres receive mail from listeners and re-directed them to Rome through the kind courtesy of the Apostolic Nunciature in New Delhi. They also print and send monthly programme schedule to listeners free of cost. What began as a single-sheet monthly programme schedule to help listeners better follow our programmes, has today evolved into a multi-page newsletter which is highly appreciated by our listeners.
VATICAN RADIO CENTRES IN SOUTH ASIA
| | |
| --- | --- |
| 1982 | Chennai, in southern India's Tamil Nadu state |
| 1990 | Colombo, in Sri Lanka - the first outside India |
| 1993 | Kochi, in southern India's Kerala state - for Malayalam listeners |
| 1999 | Ranchi, in today's Jharkhand state of India - for Hindi listeners |
Vatican Radio's Indian language programmes also broadcast two Holy Masses per week, on Fridays and Saturdays, to cater to the spiritual needs of those who for some reason or other are unable to fulfill their Sunday obligation, particularly the foreign workers in the Middle East.
PROGRAMME ON AIR IN ENGLISH

CLICK HERE FOR FREQUENCIES
| IST | UTC | LANGUAGE | UTC | IST |
| --- | --- | --- | --- | --- |
| | | | | |
| | |
| --- | --- |
| Sun. a.m./Mon. p.m. | 'Focus on the Church', 'Development & Humanitarian Issues', No News |
| Mon. a.m./Tues. p.m. | Youth programme |
| Tue. a.m./Wed. p.m. | 'In search of you' Scriptures series |
| Wed. a.m./Thu.p.m. | Pope's General Audience, Mailbox |
| Thu. a.m./Fri. p.m. | 'The Backgrounder' |
| Fri a.m./Sat. p.m. | 'Come & See' , Christian Principles in action |
| Sat a.m./Sun p.m. | Holy Mass, Liturgical reflections respectively |
| | | |
| --- | --- | --- |
| Friday | 1700 | 1130 |
| Saturday | 2100 | 1530 |
A brief "Thought for the Day" features each day in the programmes