Salvadoran 'Romero' Cross for Southwark Cathedral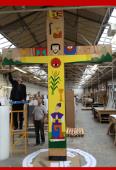 (Vatican Radio) A giant, painted Salvadoran Cross will be blessed in London's Southwark Cathedral on Thursday, at an ecumenical service in honour of the assassinated Archbishop of San Salvador, Oscar Romero.
Commissioned by the Archbishop Romero Trust especially for St George's Cathedral, the Cross contains a fragment of the alb that Romero was wearing on the day of his assassination. It will stand alongside a bust of the Salvadoran archbishop, who was gunned down while celebrating Mass on March 24th 1980.
Julian Filochowski is chair of the Archbishop Romero Trust and former director of the Catholic aid and development agency CAFOD. He spoke with Philippa Hitchen about the importance of this Romero memorial and his hopes for a speedy beatification of the martyred Salvadoran archbishop..

Listen:





"The Romero Trust had been given a precious fragment of the bloodstained alb of Archbishop Romero that he was wearing at the time of his assassination......really in thanksgiving from the Church in San Salvador for the work we'd done over many years in renovating Romero's little house and conserving his belongings, in particular the clothing he was wearing at the time of his killing....so we wanted it to be in a place where people could come, a focus for prayer and for those concerned with justice, with an option for the poor in the lines of Archbishop Romero....


We commissioned the renowned Salvadoran artist Fernando Llort to design and build for us a Cross, 4 metres high, 3 dimensional, within which would be placed the skull cap and piece of alb....Fernando Llort was the originator of this genre back in the 1960s or 70s and it's become a nationally recognised form of art...

It's to honour Archbishop Romero who is on the road to sainthood, but it's also dedicated to the memory of Bishop Michael Evans who was a great Romero 'fan', he had Romero as a model for his episcopal ministry in the diocese of East Anglia and he was the first to make a donation towards the commissioning of the Cross....

The thing with Romero was that he not only expressed and spoke his faith but he lived the faith....his commitment to the poor took him to his death....and here in St George's Cathedral, we'll hopefully have this Romero space which will become a focus for prayer and other services when Romero's cause if finally recognised...